Making Money Online:
Making Money online with Amazon FBA: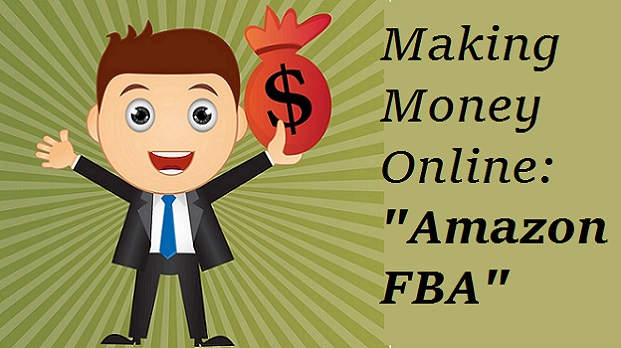 When it comes to making money online, nothing says it works like a deposit being made into your bank account. Going by personal experience, making money online with Amazon FBA, fulfilled by Amazon, is one of the easiest ways to see money flowing into your bank account on a regular basis.
Have you ever bought anything from Amazon the most trusted name in eCommerce? Sure you have. Who hasn't? I am sure as you have looked at items on their site you have noticed, "This item also available from 3rd party sellers.", or "This item only available from 3rd party sellers."
The 3rd party sellers are private sellers, selling their items on Amazon. There are two ways to go about this as a seller. The first is merchant fulfilled. The way this works is basically the merchant lets Amazon know what they have to sell, the customer orders from Amazon, Amazon lets the merchant know an order has been placed, and the merchant sends it to the customer. The customer pays Amazon, and Amazon pays the merchant after taking a small cut. Amazon of course has strict rules for the merchant to follow to maintain Amazon's impeccable customer service reputation. Please see Amazon for further information.
The second is FBA, also known as fulfilled by Amazon. The way this works is, the seller purchases inexpensive items, and lists them for sale on Amazon for more than the purchase price in hopes of earning a profit. First the seller enters their items into the Amazon website along with the price, and condition. Then the seller labels the items with a unique bar code, and ships them all to Amazon. Amazon then enters them into their system, and lists them for sale on their website when they are received. The items are stored in Amazon's warehouse, and shipped to the customer as ordered. The seller is paid when the item is shipped to the customer. Amazon of course keeps a bigger cut for providing their services, but it is a much better deal in my opinion. This of course is a watered down answer, there is much more to it that I will go into later.
We have all heard that it takes money to make money. Amazon FBA is no exception. You will need the right tools, and the right products to sell to be successful.
The right tools for the job are essential:
/>
The first thing that you will need for your new business is a smart phone so that you can download the Amazon seller app. There are many different smart phones avalible, and your current phone should have, The Amazon Seller app avalible in your app store.

You will need to have an Amazon seller account to use this app, but the app is free and it is absolutely necessary to find the items to sell on Amazon for a profit. After you download the app, and enter your Amazon seller account information into it to login, you simply tap scan, and scan the barcode of an items you find that you are interested in selling. The app will tell you what the new, and used selling price is, what the FBA fees are, and what your gross proceeds will be. If your gross proceeds are greater than your item cost, and prepping and shipping costs, than you might want to consider buying the item to sell on Amazon.

There are however certain items that you are restricted from selling on Amazon, but the app will tell you which items you are restricted from selling. You can find out how to get approval to sell these items on Amazon's website.
Impulse Sealer:
The impulse sealer is an important tool to have to help protect items such as books, or plush toys from any dust that might accumulate on them in Amazon's warehouse. There are items such as children's toys that Amazon requires you to wrap in a plastic bag before shipping as well. The impulse sealer is an invaluable tool to properly seal any items that you need to protect from dusty conditions in the warehouse.

When I first started my FBA business I wanted to watch my expenses, and went with the smaller 12 inch impulse sealer because it was cheaper. I quickly found it not to be large enough for bigger items. I had to creatively seal items at angles to get it to seal my items properly. I finally upgraded to the 16 inch impulse sealer, and couldn't be happier. If I had it to do over again I would have purchased the 16 inch one to begin with. This is the one I use now, and I like using it much better than the smaller impluse sealer.
Heat gun:
This handy device may look like a small hair dryer, but make no mistake it generates much more heat than a hair dryer. The heat shrink gun is used to shrink down the plastic bags after sealing them with your impulse sealer. You must use caution as some bags can shrink fast and tight, and could easily damage your items. When you first use your new heat gun it is best to start with the low heat setting, and slowly move the gun closer to your plastic wrapped item while moving your hand back, and forth to disperse the heat slowly, and evenly until you get use to how it works. The metal end can get hot enough to give your finger a nasty burn if touched. The design of the heat gun will keep the metal end from touching the surface when set down, but you still must use caution when using it. This is the one I use for my business.
The right tools for the job are essential:
Tao Tronics Barcode Scanner:
This is a fantastic tool that will greatly speed up the process of entering your FBA products into Amazons system before shipping them into the Amazon warehouse. This handy hand held device is a bar code reader. You have seen something similar in retail stores used by the cashier to ring up your purchases. This device will plug right into your computers USB port, and will easily communicate with your system after a short automatic setup.

Normally as you enter your products into Amazons system your are required to manually enter in your products description, or UPC code to start the process. This process is greatly improved by using this device to simply scan your products UPC code, and instantly input the information into the system. You will see as your business grows, you will find yourself sending large quantities of product into Amazon, and you will find this device will greatly speed up the process, and is worth the expense.
Shipping Scale:
You will need a mail scale to accurately weigh your box before shipping it to Amazon. The last thing Amazon will ask you to do before shipping your items to their warehouse is enter the weight, and dimensions of your box / boxes. You will need an accurate weight for your box before printing your shipping labels. Amazon has a deal with USPS to provide shipping so you will get a better price than if you shipped it on your own. Amazon will let you know the shipping cost based on weight and measurements. You click approve shipment, and your credit card will be charged in 24 hours giving you time to cancel it if you made a mistake. Then you click "Print label" to print your shipping labels for your box, affix them to your box and you are ready to ship your products to Amazon.
(Click here to view on Amazon) - Smart Weigh Digital Shipping and Postal Scale 110 Lbs. With Extendable Cord and Bright Blue Backlight Display, UPS USPS Postal Scale, Batteries and Ac Adapter Included
Total Loser's Guide is a participant in the Amazon Services LLC Associates Program, an affiliate advertising program designed to provide a means for sites to earn advertising fees by advertising and linking to Amazon.com.

All links on this site are subject to being sponsored content for which we will receive financial compensation.